Somewhere in rural eastern Europe, a young boy (Petr Kotlár) is living with his aunt, Marta (Nina Sunevic), on a farm as World War II breaks out. They raise chickens and the house is comfortable, but the land is barren. It won't be for long, Marta tells him. He writes a message on a piece of paper and attaches it to a little boat he made and sets it down the river. It says, "Come and fetch me. " The elderly Marta dies, leaving him alone. He drops a lamp near her body that sets the house on fire.
The boy wanders into a village where the people beat him because he is a stranger. The local medicine woman, Olga (Alla Sokolova), says he is responsible for all the bad things happening, but she buys him so that he can work for her. Then he and many villagers become sick. She buries him up to his neck in a field to sweat out the fever but abandons him. He escapes from attacking crows and finds refuge with an older man, Lekh (Lech Dyblik), who keeps birds. One day, the man paints the wings of a small bird and tosses it into the air to join the birds circling above. But the birds attack and kill the little bird and it falls to earth. The boy is stunned at Lekh's cruelty.
The boy is trying to find his way home, and it is a tragic journey because of the terrible things that happen to him. A priest (Harvey Keitel) is kind and gives him a crucifix to wear, letting us know what we suspected: the boy is Jewish and must hide in plain sight. The priest places him with a farmer (Julian Sands), not knowing he is a child molester. When the boy is captured by Germans, Hans (Stellan Skarsgård) is sent to shoot him but lets him escape.
The Painted Bird is directed by Václav Marhoul, but any accolades for this cinematic dissertation on human misery belong to cinematographer Vladim'r Smutn_. Filmed in black and white, the stark landscape scenes are masterpieces of minimalism that evoke feelings of isolation and loneliness; the closeups are compelling still portraits. The balance of narrative and image is in perfect tension
This film, at just under three hours, is not for everyone. The depiction of human cruelty is too intense for most. Christians in the film are at once religious and superstitious, kind, but mostly cruel, even to one another. However, the ending sequence of events, where we finally learn the boy's name, is a blessed reprieve.
---
Not yet rated • Bestiality, explicit sexuality, off-screen child abuse, cruelty to people and animals, and war violence.
---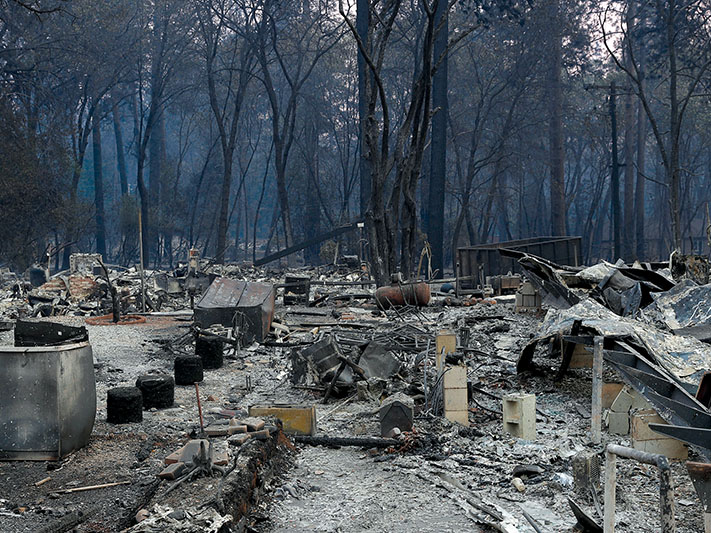 On the morning of November 8, 2018, a fire broke out that consumed the town of Paradise, California. Called the Camp Fire, 85 people died, 95 percent of the town's structures burned to the ground, and 50,000 of the town's citizens were left homeless. This new documentary from National Geographic is harrowing to watch. The first 20 minutes are a montage of cell phone or newsreel footage of people fleeing, flames towering over cars, bursting transformers, and people calling for help as the flames threaten their lives.
The Camp Fire was the worst in California history and the worst fire in the United States in a century.
At just the right moment, Academy Award-winning director Ron Howard switches to the town's recovery. He frames the rebirth narrative of Paradise by looking at the schools and the town hall. Even though many thousands of families lost their houses, Paradise is their home. FEMA brought in trailers, and people found places to stay with family and friends or in motels in neighboring towns, though some left and never returned. The principal and her team found alternative classrooms so children could return to school while property owners struggled with new construction regulations for rebuilding.
At the center of the drama is PG&E, which had to admit fault for failing to maintain electrical lines and equipment. This is a powerful film, but I thought Howard went soft on this notorious company that has a history of choosing profit over the health and well-being of its customersÑjust as we saw in 2000's Erin Brockovich. On the other hand, the people of Paradise shine through with hope and love for their town. Rebuilding Paradise is streaming on NatGeo.
---
Not yet rated, PG-13 • Peril, corporate disregard for human life.
---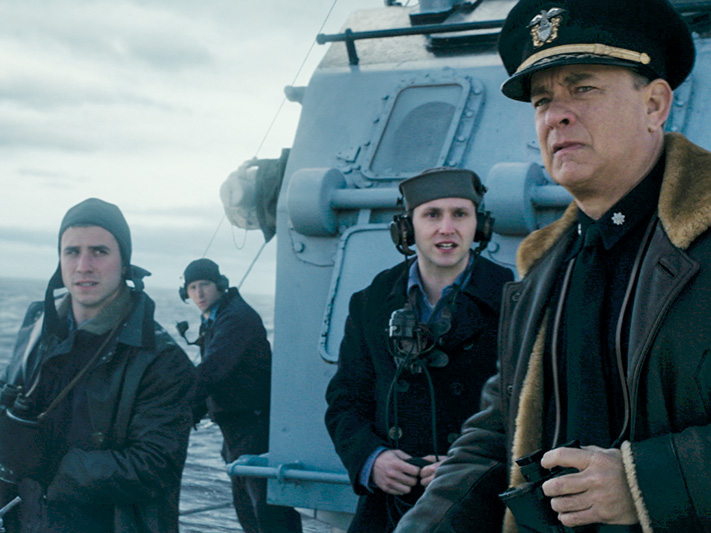 During World War II, the United States provides a naval lifeline to Great Britain, bringing in desperately needed supplies. During one trans-Atlantic crossing, a convoy of three dozen Allied ships and four escort ships must cross what is known as the "Black Pit, " where they will be out of range for Allied air coverage to protect them.
Commander Ernest Krause (Tom Hanks) leads the convoy with the destroyer USS Keeling, code name Greyhound. For three days, they identify and dodge attacks from German U-boats while navigating heavy seas. Although Krause has served in the Navy for many years, this is his first command.
Greyhound is based on the 1955 novel The Good Shepherd by C.S. Forester. Because the human interaction takes place in one space on the ship and the dialogue is mostly coordinates shouted from one level of the ship to another, this film fails in maintaining interest.
I love Hanks, but this is an example of a book that does not translate well to the screen.
---
A-3, PG-13 • Peril, war violence, and drama.
---